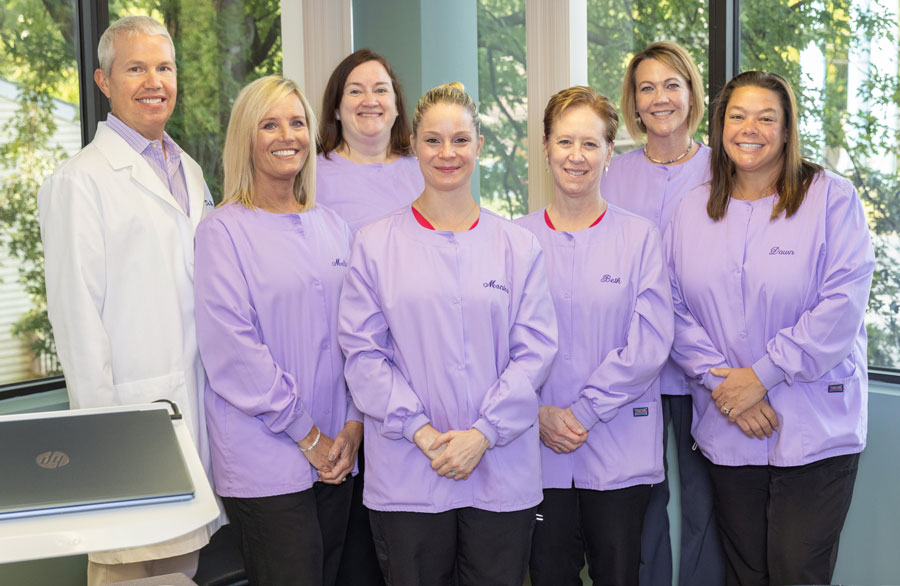 Our orthodontic team consists of highly qualified professionals with over 150 years of experience in the orthodontic field! We pride ourselves on being at the forefront of advances in orthodontic treatment, and enhancing patient relationships by attending continuing education seminars in addition to ongoing training by Dr. Wright. Our team is committed to excellence and the lifelong results of our patients.
---
Melissa
Treatment Coordinator / Front Desk
Melissa enjoys being able to work with her husband Dr. Wright every day, as well as our patients during their initial consultations and throughout their treatment. She has more than 25 years of experience in the dental/orthodontic profession and loves being part of an awesome team that creates beautiful smiles.
Melissa enjoys spending time with her family, traveling, and the Pittsburgh Steelers.
---
Angelle
Scheduling Coordinator / Front Desk
Angelle has more than 30 years of experience in the dental/orthodontic profession, half of which has been with Wright Orthodontics. She is a certified general dental assistant and certified orthodontic assistant in the State of Maryland She is X-ray Certified and also Healthcare CPR/First Aid certified. Angelle loves assisting patients and families with all aspects of their orthodontic care, and seeing their smile transformations when treatment is complete.
Angelle has two beautiful daughters, Jenna and Caitlyn. She has two dogs Maverick & Lil Dude and two cats Bam-Bam and Dino. Her hobbies include spending time with her family, volunteering in the community, reading a good book in her hammock, and computers. Angelle is a DC Sports fan and roots for the Washington Football Team and the Washington Capitals. Let's Go Caps!
---
Jill
Orthodontic Technician
Jill has more than 25 years of experience in the orthodontic/dental field. She is a Certified Dental Assistant with her State of Maryland X-ray Certification.
Jill enjoys spending time with her family, boating, and the Washington Football Team.
---
Beth
Orthodontic Technician
Beth has been a dental assistant for almost 37 years. She followed in her mom's footsteps and now her own daughter is in the dental field! Beth enjoys working with patients and helping them get a beautiful smile. She also appreciates the personal relationships she has developed with both her patients and the rest of our team.
Beth has been married to her wonderful husband for 14 years. She spends her spare time riding her horse Blaze.
---
Dawn
Orthodontic Technician
Dawn began her dental career more than 20 years ago and has been a wonderful addition to our team since joining in 2017. Working with patients throughout treatment, Dawn enjoys showing patients their initial and final set of photos when they complete treatment. Their smiles are her favorite thing to see!
Dawn is originally from Hershey, Pennsylvania. In her spare time, Dawn enjoys going to the beach, playing cornhole, watching Penn State football, and spending time with her husband and two kids.
---
Monica
Orthodontic Technician
Monica brings more than 20 years of professional experience to Dr. Wright's office. She's passionate about her team and giving patients the ability to smile again!
Outside of the office, Monica competes in strongman and CrossFit competitions. Her passion for self-improvement led her to recently becoming a coach. She loves to see patients, or anyone, better themselves! She's also a proud mom and wife.